Working on Akhalkalaki Development strategy is finished
2018-03-20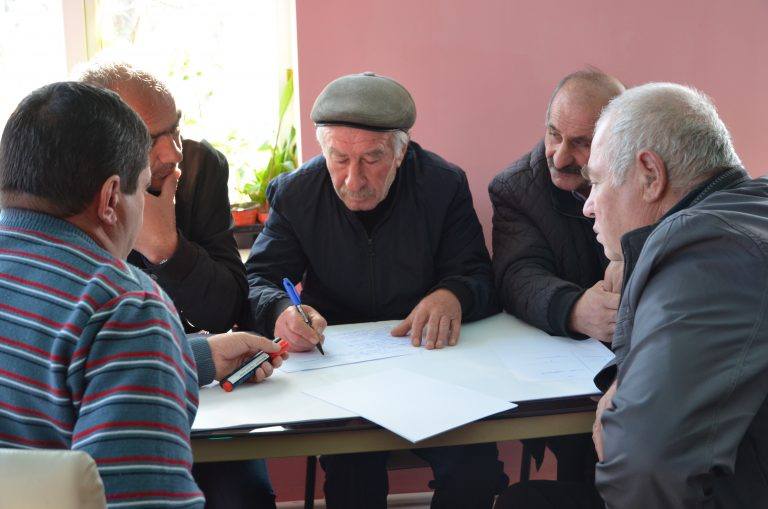 In the framework of the EU-supported project "Promoting a New Rural Development Approach in Akhalkalaki" Akhalkalaki Local Action Group has completed elaboration of the Local Development Strategy (LDS). The LDS has been developed using a consultative process and broad involvement of local population, communities, organisations and individuals representing different section of the Akhalkalaki municipality. Particular input was made by the members of the Akhalkalaki Local Action Group (LAG), which is comprised of 30 members. Local Development strategy will be a guideline for detecting prioritized directions in grant projects and funding as well. The LDS describes local challenges and focuses on the opportunities for future development via concrete solutions by specific socio-economic, cultural and environmental interventions.
The overarching aim of the Akhalkalaki LDS is: To improve quality of life, diversify local economy, integrate local population and make the municipality a better place to live.
To achieve this aim, the LDS proposes the following main objectives:



Extend local income and promote the sustainable development of the local economy




Improve social integration with a major focus on education, culture, youth and gender equality




Extend local tourism potential and support the conservation & appreciation of the local cultural heritage




Improve ecological environment and introduce environmentally friendly practices in the municipality



"For economic growth and development of the region, it is essential to underline and learn major directions, that is precisely described in the document. It is important to display local potential, based on what grant proposals will be funded" -  Head of local development, Makhare Macukatov said.
Akhalkalaki Development Strategy (LDS) is available on following link:
http://akhalkalakilag.ge/en/development-strategy/
.
The project Promoting a New Rural Development Approach in Akhalkalaki is implemented by Georgian Rural Development Department of Georgian Institute of Public Affairs (GRDD of GIPA) in partnership with Mercy Corps, Elva Community Engagement and West Cork Development Partnership financed by the European Union within the framework of the European Neighbourhood Programme for Agriculture and Rural Development in Georgia (ENPARD).