EU-supported Youth Summer Camp was arranged by the initiative of the Akhalkalaki Local Action Group
2018-07-30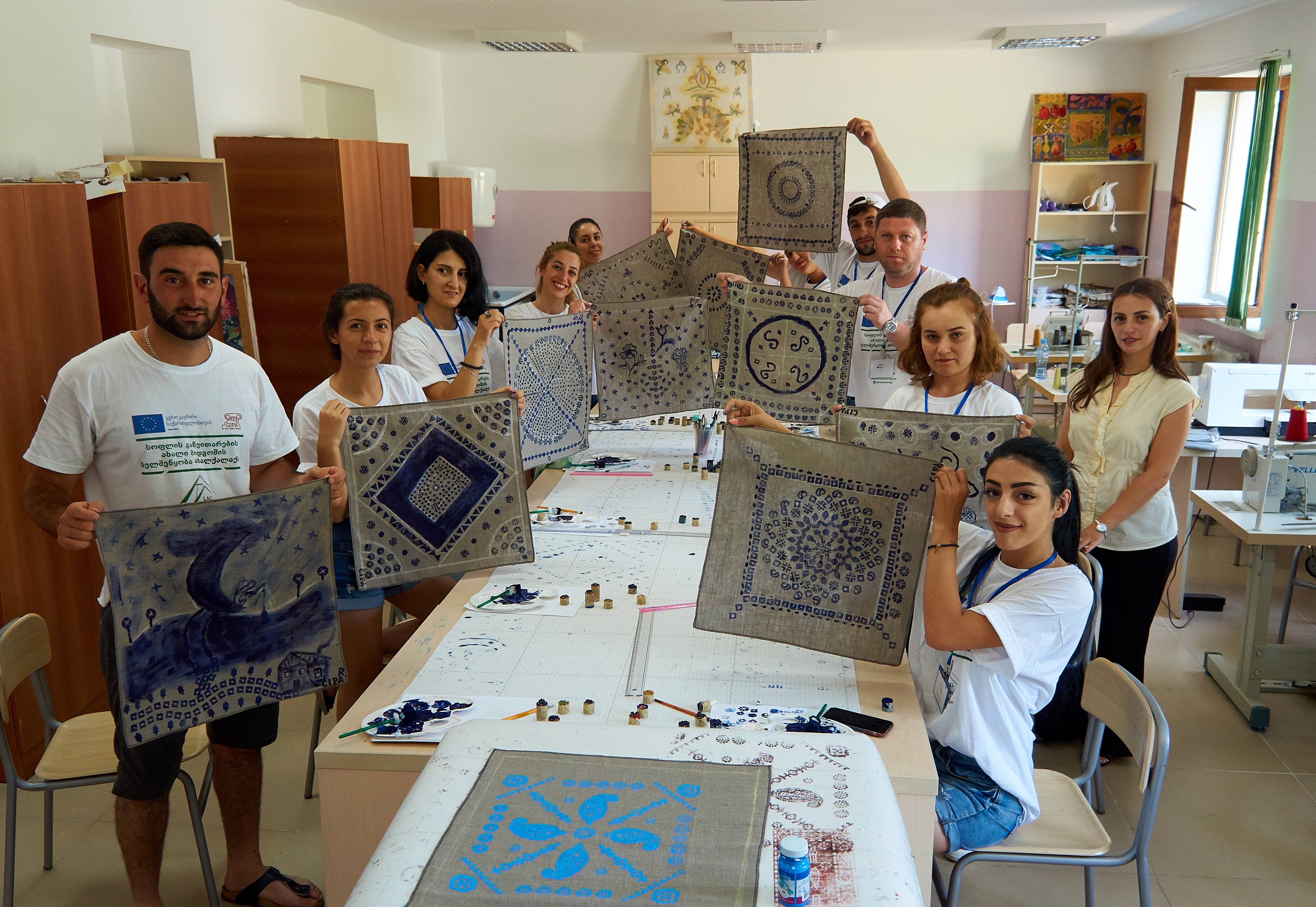 22-27 July 2018. Kakheti – Generating project ideas, project writing and team work were the major topics of the EU-supported Youth Summer Camp organized by the initiative of the Akhalkalaki Local Action Group (LAG) in Kakheti. The event was held within the framework of EU-supported project "Promoting a New Rural Development Approach in Akhalkalaki."

During the Summer Camp, participants had the opportunity to raise awareness about the history of Kakheti Region, visit cultural, historical and recreation sites, and receive information about the academic programmes of local educational institutions. Moreover, the youth learned local traditional handiworks such as the art of patterning and creating Georgian table-cloth, as well as cooked local dishes with the host family. In addition, the camp participants were introduced to local tourism development trends and innovative methods of establishing effective communication. It is important to note that the camp was hosted by the local youth from Kakheti.

"Promoting youth initiatives in Akhalkalaki and developing effective coordination among the regions are vital. Abovementioned activities give new perspectives to the participants for further development and integration. Playing in team is a good opportunity for them to build new contacts, improve communications and keep in touch not only during their stay at camp, but afterwards as well, in another conditions and environment" – says Mariam Davitashvili, psychologist.

The main highlights of the camp topics were Regional Development and Tourism. It should be mentioned that Kakheti Region was selected on purpose by the Akhalkalaki LAG as it is the region with high potential of touristic services and tourism development in general. The participants visited successful hotels and the most popular sightseeing of the region. Interesting lectures were delivered about tourism development.

"Developing tourism is one of the most important strategic components, thus, this kind of lectures enables us to get more information about the challenges in being a respective host for the tourists" – says Anush Giloyan, Chairwoman of Akhalkalaki LAG.

This is the first Youth Camp which has been initiated by Akhalkalaki LAG. Similar activities will be conducted in the future as well.

 The Project "Promoting a New Rural Development Approach in Akhalkalaki" is implemented by the Georgian Institute of Public Affairs and Georgian Rural Development Department (GRDD/GIPA). Project partners are Mercy Corps, ELVA and West Cork Development Partnership. Project is financed in the framework of European Neighbourhood Programme for Agriculture and Rural Development (ENPARD).